In arrivo su Disney+ il 24 maggio In The Clearing, la prima serie originale australiana diretta da Jeffrey Walker
Disney+ ha annunciato che la sua prima serie originale australiana, In The Clearing, debutterà il 24 maggio sulla piattaforma streaming. Gli episodi successivi verranno rilasciati a cadenza settimanale.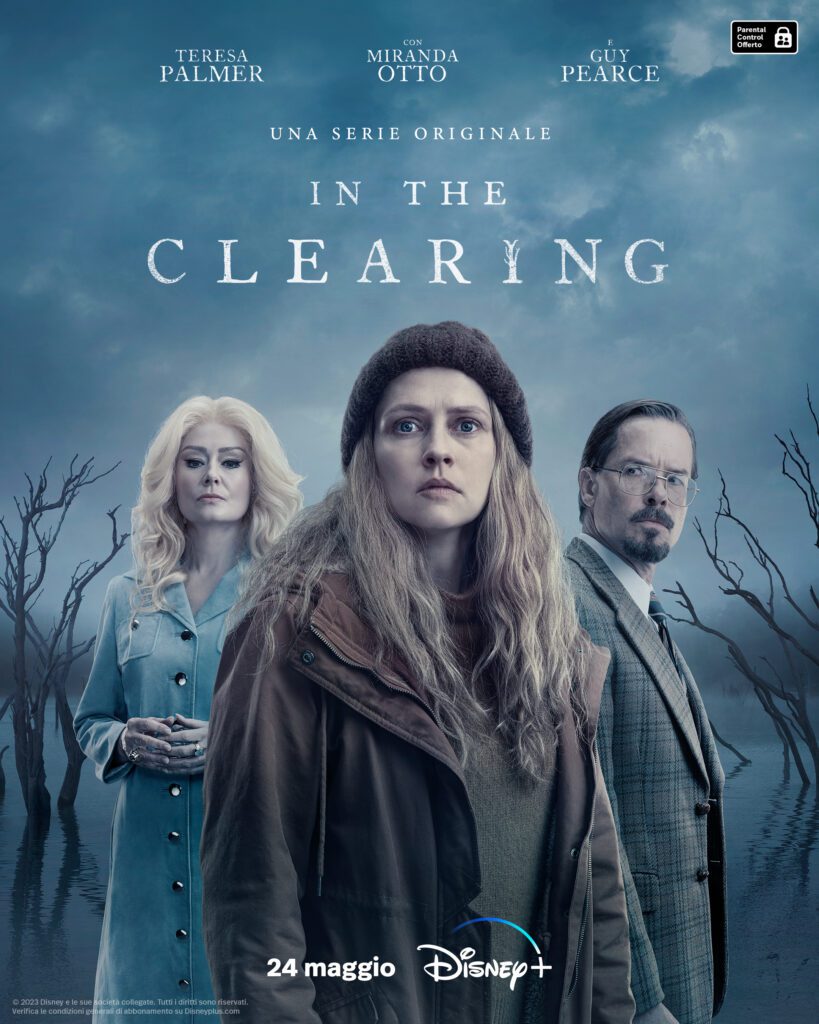 In The Clearing è una serie thriller psicologica composta da otto episodi e basata sul best-seller poliziesco "In The Clearing" dell'autore J.P. Pomare, ispirata all'oscurità dei culti realmente esistenti in Australia e nel mondo.
Girato nello stato del Victoria, in Australia, In The Clearing segue gli incubi di una setta e di una donna costretta ad affrontare i demoni del suo passato per fermare il rapimento e la coercizione di bambini innocenti nel futuro. La serie scava sotto la pelle e dentro la mente, confondendo i confini tra passato e presente, realtà e incubo in modo tormentato.
Teresa Palmer (A Discovery of Witches – Il manoscritto delle streghe), Miranda Otto (Unusual Suspects, Homeland – Caccia alla spia) e Guy Pearce (Jack Irish, Mare of Easttown) guidano una schiera stellare di attori australiani, tra cui Hazem Shammas (Safe Harbour), Mark Coles-Smith (Mystery Road), Kate Mulvany (The Twelve) e anche la star emergente Julia Savage (Blaze, Mr. Inbetween).
In The Clearing, diretta da Jeffrey Walker (Young Rock, Lambs of God) e Gracie Otto (Seriously Red, Bump, Deadloch), è creata e scritta da Elise McCredie (Stateless) e Matt Cameron (Jack Irish), con il co-sceneggiatore Osamah Sami (Il matrimonio di Ali).
A produrre per Disney+ Jude Troy di Wooden Horse (The Other Guy 1 & 2), mentre Richard Finlayson di Wooden Horse ed Elizabeth Bradley di Egeria sono i produttori esecutivi insieme a Jeffery Walker, Jude Troy, Elise McCredie e Matt Cameron.
Leggi anche: Ant-Man and Wasp Quantumania: svelata la data di uscita su Disney+